June was looking a little sparse on the racing front what with CHEC taking a break in proceedings so I had a look through the events section on enduronews.co.uk and frond that Sidcup & District MCC was hosting a round of the British XC championship on the 12th of June. As I took part in this XC event back in 2009 I thought it would be a good idea to give it another go. Tony at first said he'd give it a try but with a couple of weeks to go (just after having a bit of a mare at Ashdown Farm H&H) he decided that the standard would be too high for him so it was left to me to keep the Club DB flag flying – metaphorically speaking of course, cos we don't have a flag!
now that is quality packing! No crapy old bits of cardboard for OTR
Anyway the entry was sent off (did this on-line) and my bike's suspension was sent off to Chris at On Track Racing for a full re-build and re-spring. I had a good chat with him on the phone and he came across like he knew what he was talking about and explained to me how different suspension worked. A spec was agreed on and the fact that I need them the following weekend. They were sent off wrapped in bubble wrap and cardboard but returned in a wonderful wooden box with all the parts cable tied down inside – quality. Having set up the sag with the help of Nicky, I sms'ed Chris to be sure of the settings, as the bike appeared to be set up very plush. Setting confirmed I decide to give it a go before messing with any of the clickers. Halfway through the bike re-build Tony popped round on his scooter with two tyres for me to fit. Luckily they are a lot easier to fit than enduro loops and mousses!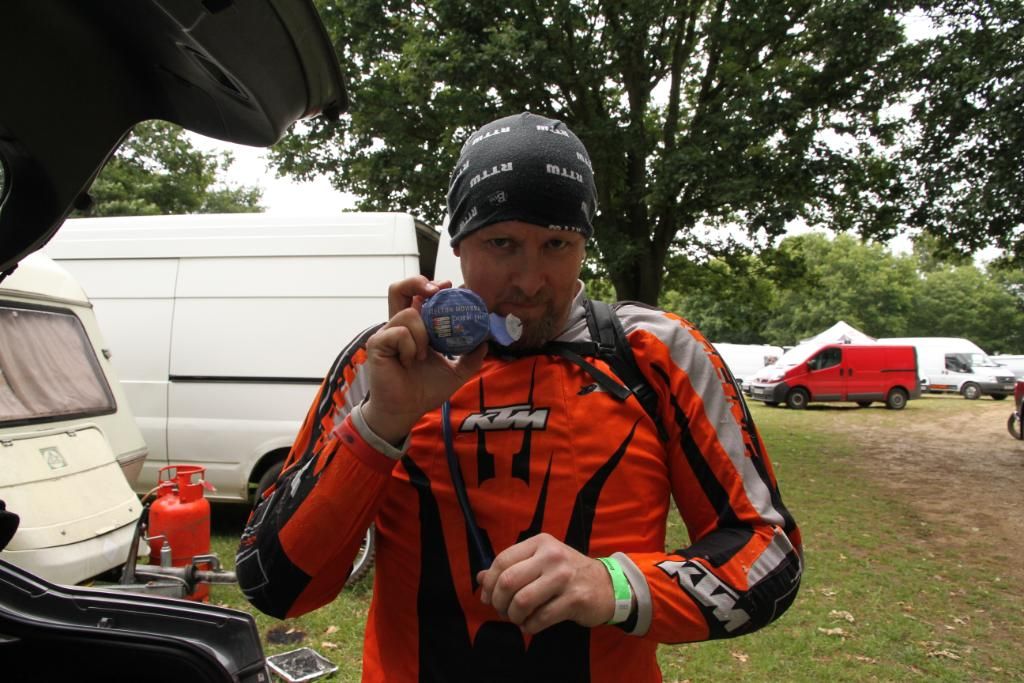 race prep RBJ style
I mentioned to Tony that the race was a British Championship race and he laughed "good luck with that" and then it sort of struck me that I might be in a bit deeper than I thought. Looking at the entry list there was no one that I knew or anyone from the forums so I was getting a little nervous. Not only that but the start was giving me nightmares too. It's a mass start (in classes) and I was worried that the Rekluse would be too cold to get it off the line without stalling.
Come the weekend and Sunday morning was nice and Sunny – no wait that was my dream – it was dark and crappy with none stop persistent drizzle. At least I had a late start as the morning race for sportsman was being run first so the main racer was in the afternoon at 13h00. The trundle down to Canada Heights was fine, bar the excruciating pain of an over full bladder, I was in dire trouble and had everything crossed while we trundled around the very bumpy M40, but made it to the service in time (only just mind!). Why is there so much distant between the M40 and another set of services?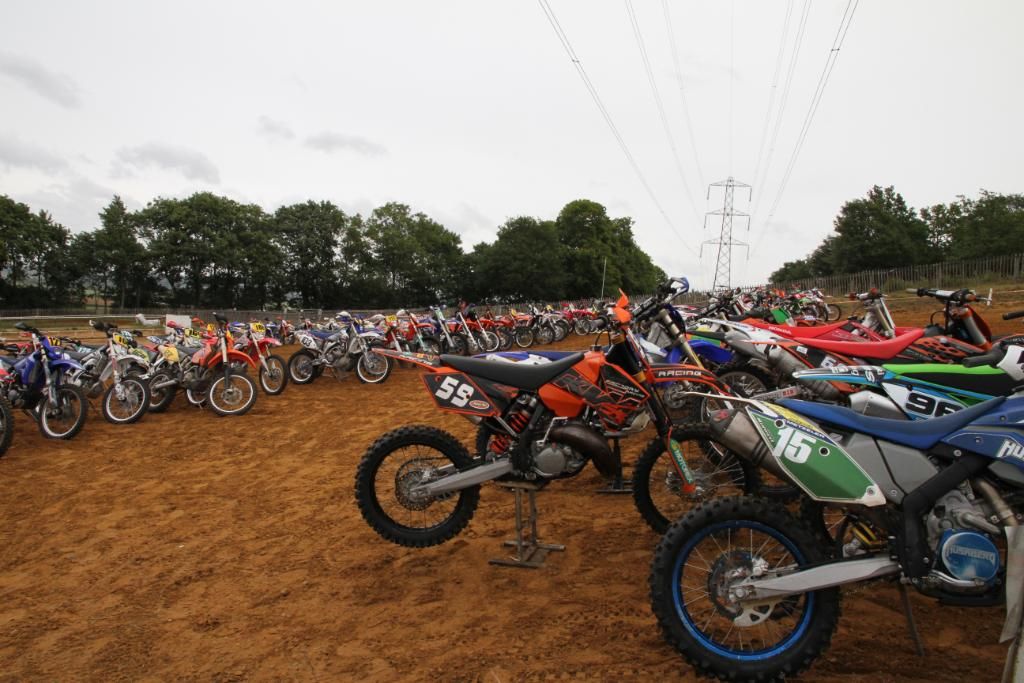 the grid, pro's first then clubman, followed by O40
Once at the track we went for a bit of a walkabout to check out the track and to watch the start of the morning race. Nicky fired off a few shots to get her eye in and see what sort of light was available (not a lot). The smaller lens would have to remain on the camera all day. Butterflies in full flight it took forever for the morning to tick past but eventually we were on the start line warming our bikes up. I got the bike into gear and held the left hand rear brake on so that the clutch plates could free up. Once the 'engine stop' order was given I left the bike in gear as I knew it would start while in gear. In testing this seemed to work better than knocking it into gear from neutral while stopped on a semi warm engine.
riders briefing..... me putting ear plug in

The minutes ticked by and then the Pro class was sent on their way. This time I took notice of the starter's flag and his body language so that I could anticipate the start. It messed up sooo bad in 2009! The flag's corner is held in his hand, he drops the corner, a few seconds wait and he lifts it up (I press the starter) and he drops it in one fluid motion. The grid roars into life and thankfully my bike starts and I'm away. The hill and deep sand drags the engine back more than I expect so I give it and extra handful to clear its lungs and my heart is already beating fast enough to fly up the hill on its own! "Fight or Flight" has kicked in and to my amazement I'm in the top ten when we get to the first corner and I think I gained a place or two in the next couple of bends but I'm not too sure.
how did this happen? i'm up near the front - only seven riders in front of me!
you can see in this pic that 101 has just lost the front wheel and is dabbing to recover
127 nips up the inside of me
here you can see my front wheel tucking but i also saved it
just check out the amount of sand hitting the front numberboard!
note also the right elbow up in the air just about to hit the gas hard
elbow down and its full taps, sand still flying into the board
Going through the blue (slow speed) taped area by the pits and transponders I was still in a state of shock. I'd got a good start and now I had the pressure of keeping it. This wasn't in the game plan, I was suppose to take it easy on the first lap to get to know the course and now I had thirty odd angry sounding bikes right on my heals, time to pull the pin and get out of here! I pushed hard for the rest of the lap but was very cautious on the mx track as I could not remember which way it went. I don't think I dropped anymore places on that lap but in all honesty it was a bit of a blur once again. I don't have any helmet cam footage to help me out remembering the laps as I thought it a bit of a waste of time what with all the rain.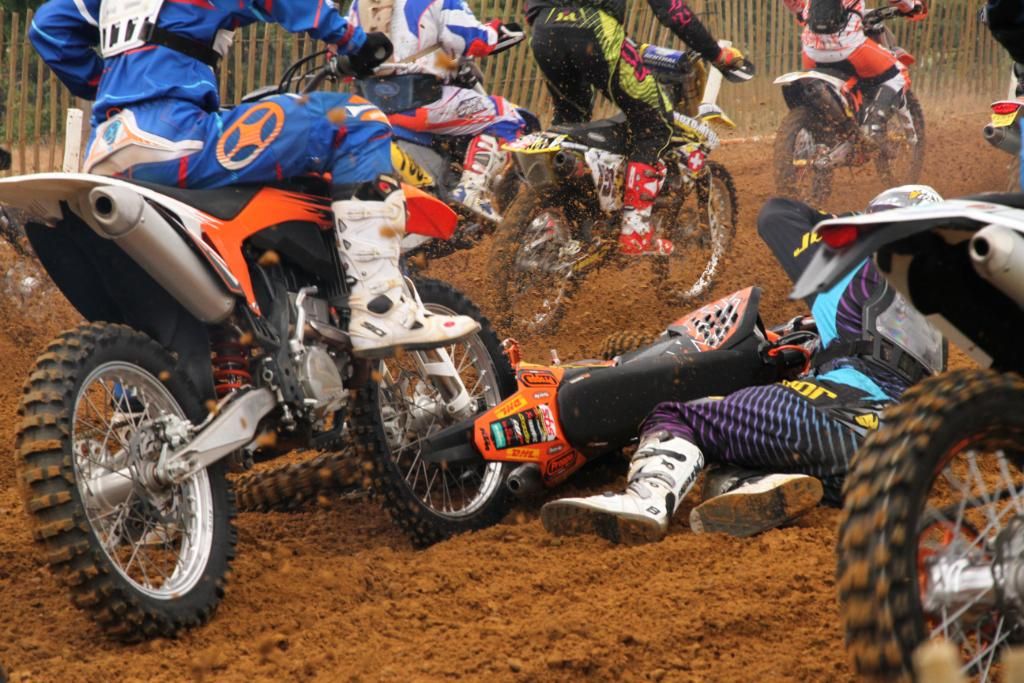 someone wasn't so lucky...man down
lucky he wasn't run over...but by the look of it the guy behind tried too, but got stuck!

The track. We raced round the back of the carpark and dropped down into the first section of sand covered humpy humpy woods and weaved in and out, up and down, until the next section of the woods – the bit with all the soft gray sand that turns to powder. Once we'd climbed up the final slope we got into the flowing wooded section that goes away then sort of doubles back in itself. The second part of this bit had some nice berms building and you could get some nice rhythm going between the bends, flicking it from side to side and hitting the gas hard.
one of the pro riders gets airborn
my slightely more modest approach on the first lap....
who knows what could be on the other side of the hill?
Breaking out of the woods we were at the bottom of the property near the mx track and we traced along the fence we got to the first hard/easy bit. There was a man made rock obstacle to get over that came just after a tight right turn. Getting over it in the early laps was easy but as the day worn on I started to make mistakes here. A few turns later and we were out into the open field for the first time. The bends were getting cut up with lots of holes and deep soft patches. The suspension was great through this rough stuff so no complaints there. Half way through the fields we raced back into the tree area for a few bends and.......this is where my memory starts to get a little fuzzy. I think we went back out into the fields again but I can't remember if we did a little excursion into the mx track somewhere. Having done it ten times you'd think I'd remember but no I'm afraid not.

Anyway we head off across the fields again and dipped down into that little tricky sandy section before entering the trees at the far end of the field popping out momentarily to take in a few more turns in the field. This led us to the three log steps and the first time round I cleared the first then got a little off line over the second. This pushed me to a fat part of the third and final log and being too late to change I winced as the front wheel hit the log and nothing. The re-worked front end absorbed it completely and the bike was over. However I did start to have issues here later on in the day and I ground out several times as they appeared to get bigger!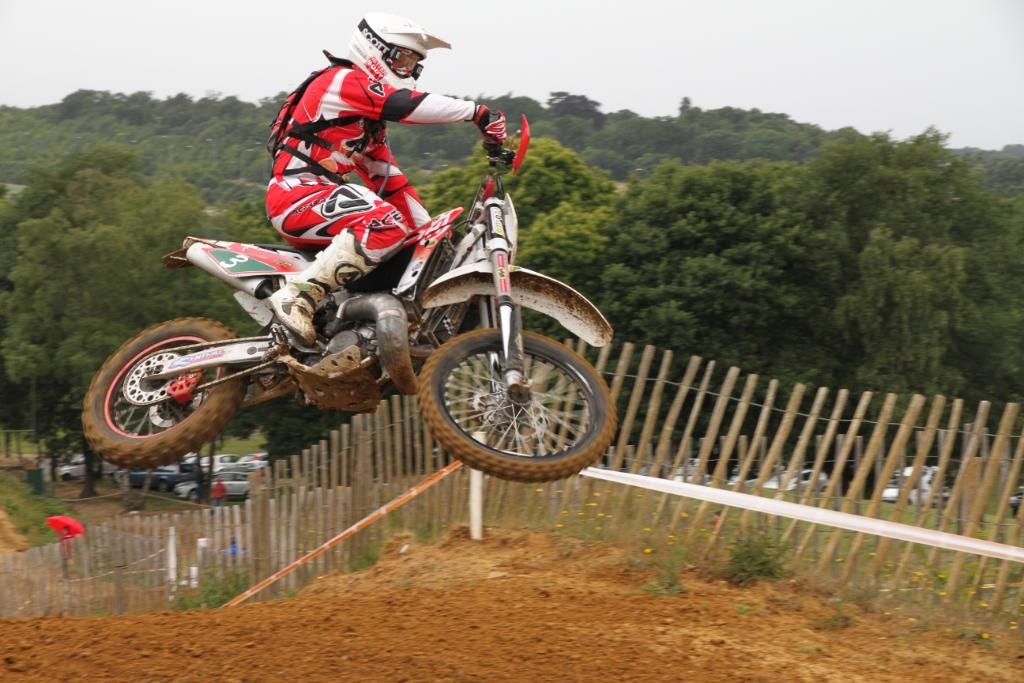 Some more high speed turns brought us back onto the home run which is the trees on the far side of the mx track. These are also very bumpy with lots of changes in height so again quite hard on the body. At the bottom of the run you turn back on yourself and re-enter the mx track at its mid point. To go fast on the mx track you really need to know your way around as I was constantly thinking what was on the other side of most of the jumps and it was only quite late in the day when I got to grips with remembering what went were but by then I was too tired to ride hard!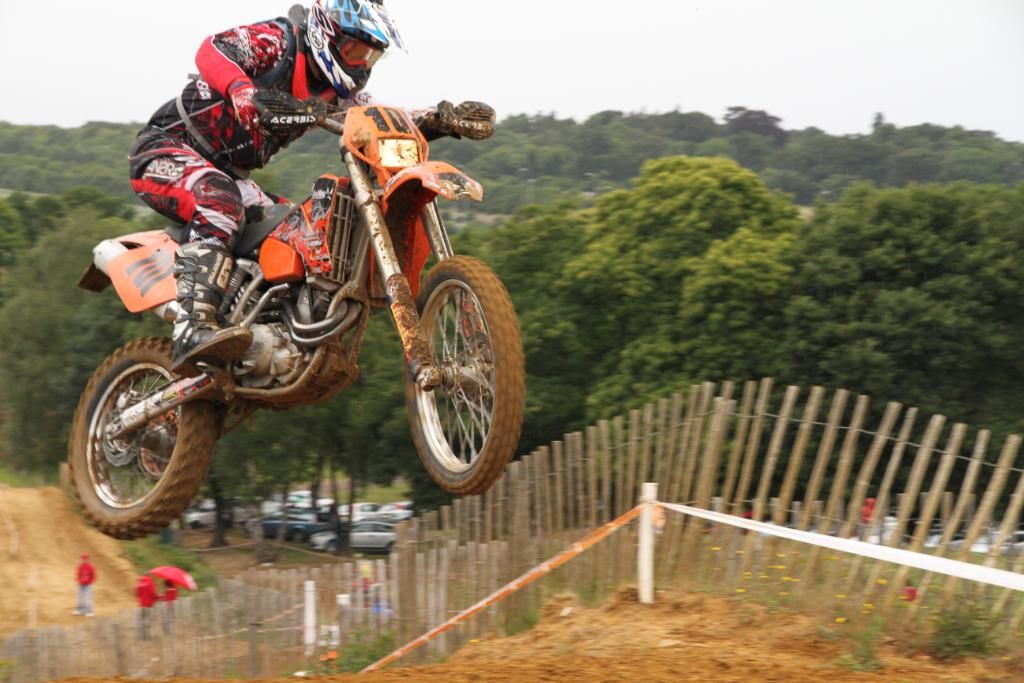 101 was flying on his old RFS
However in the early laps I was still ok but I took it easy on all these jumps cos like it said I didn't know my way around. There was one series of jumps that came just after a tight right turn. The first one could be jumped but then you could give it loads and jump the next one, landing on the second one's leeward side....if you were fast enough. I'd watched several do it on the morning so on the second lap I tried it, now or never. I hit the gas and sailed through the air, smack bang into the forward face of the second jump. Luckily I stayed on but that put me off from trying that again. The 450 and my bulk were too heavy to make it, or I just didn't go fast enough, either way it was a lesson for all around on how not to jump a double.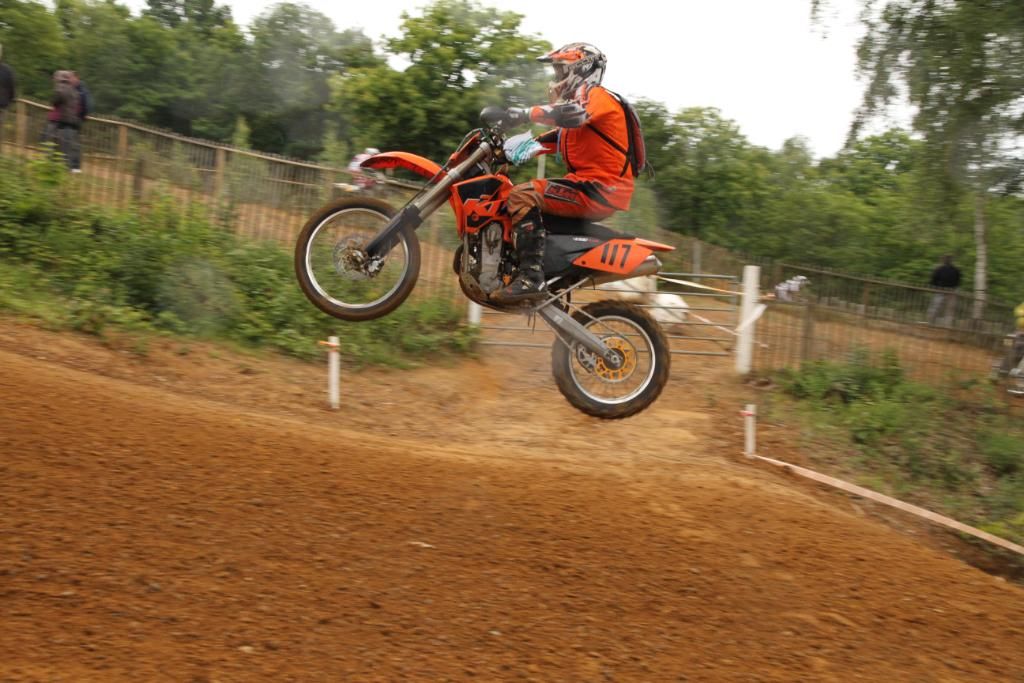 second lap and i try to nail the 'double up hill" jump
splat! i hit the face and flatten the bike and frighten small childeren with the thud
The end of this mc section was also the end of the lap and so far I'd not surrendered too many places to other riders so I swiped through the transponders. These don't bleep like other clubs do, your number come up on a screen on a pc monitor.
Starting the next lap and the rain was becoming an issue. I could hardly see where I was going and because the track was so busy there was nowhere but the blue taped areas at the transponders to wipe them clean. I have a little rag attached to the bar with elastic that I use to wipe them, but getting time to do it was not easy. Coming into the pits at the end of the second lap I frantically cleaned my goggles but in doing so I forgot to get my drinks tube into my mouth. Like I said the track was so 'busy' as in, terrain to get over in one form or another, not busy as in rider numbers, that it was hard to let go of the bars for a moment long enough to get the drinks tube into your mouth. By the end of the third lap I was gasping and from then on a made sure I had regular drinks.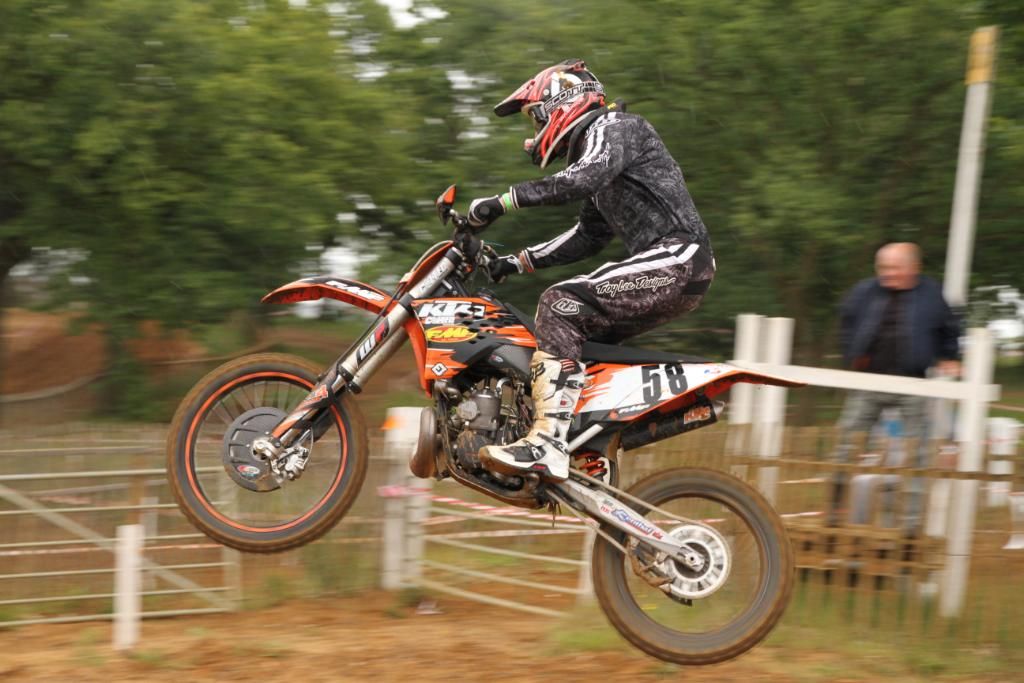 By now I was starting to feel the pace a bit, Nicky was cheering me on at one corner as she could see in my body language that I was getting tired. From starting to caught up to some of the pro riders I was now lagging behind. And it wasn't long before a very unwelcome old enemy came to say hello, my shoulder problems. As you are no doubt aware I separated my left shoulder back in 2009 and for a long time my really struggled with muscle pain on that side as my shoulder muscles took the strain of not having an attached collarbone. In time it strengthened up and I've not had any issues for a while. I had some pain at Billington but then I did have a tumble on that side and put it down to that. It was fine at the Red Kite and South Reading races this year and they were both hard races. It could be the drops down onto the front wheel that does it as that puts strain onto the arms and shoulders. Anyway whatever the cause by about an hour in it was starting to become an real problem. A few lap later and it felt like my shoulder was on fire, so much so I considered pulling in. Then I remembered how I felt after I gave up once before in Wales and I couldn't live with that again. Just after the start of the next lap I spotted Nicky on the side of the track so I stopped and called out "get me pain killers"! She nodded and I continued on but now I was just riding so get a finish. Coming round again and I went to the transponders only to find she wasn't there!?

I continued on but I was making a fair few mistakes by now and I dropped the bike in the grey coloured sandy woods on a tight'ish corner that had a lot of soft dust on the outer edge. The front end went into the dust and it plopped over. I remained on my feet and was going again soon enough. Each drop-off was pure agony by now and as luck would have it two hours was up so I pulled into the pits. I wasn't sure if the bike would make two and a half on one tank so I'd made arrangements for Nicky to be on hand in the pits for a 'splash and dash'. Unfortunately I'd not been to clear on what I wanted her to do so as I stopped and unscrewed the tank she was rummaging in her jacket pocket on the ground while I was calling out "come on, come on, petrol". Handing me the fuel I pushed the quick filler home while she was asking me if I wanted ibuprofen or paracetamol? Eh? I recognised the large pink pill from my box or bits in the kit and grabbed one while screwing the tank cap back on. No idea how much went in but I was off again.
pinched from you-tube!
On the last two laps I got into a bit of a dice with rider 240, Cliff Barnett (I think). I'm not sure how it started but I think he slipped past while I was in the pits and then I overtook him, only to let him past when I pulled over for a faster rider. In the later laps I knew I was slowing down so I didn't want to get in anyone's way. Any way I sped up again and overtook him once more when he made a small mistake, only for me to make a mistake and it went on like this for the next two laps. I just made it round for one more lap and as I pulled away my back wheel dropped into the deep rut that had been formed by people pulling away at the transponders so the bike slued sideways, allowing 240 past again! I can't remember where I got past again but I eventually pulled about 40 seconds on him.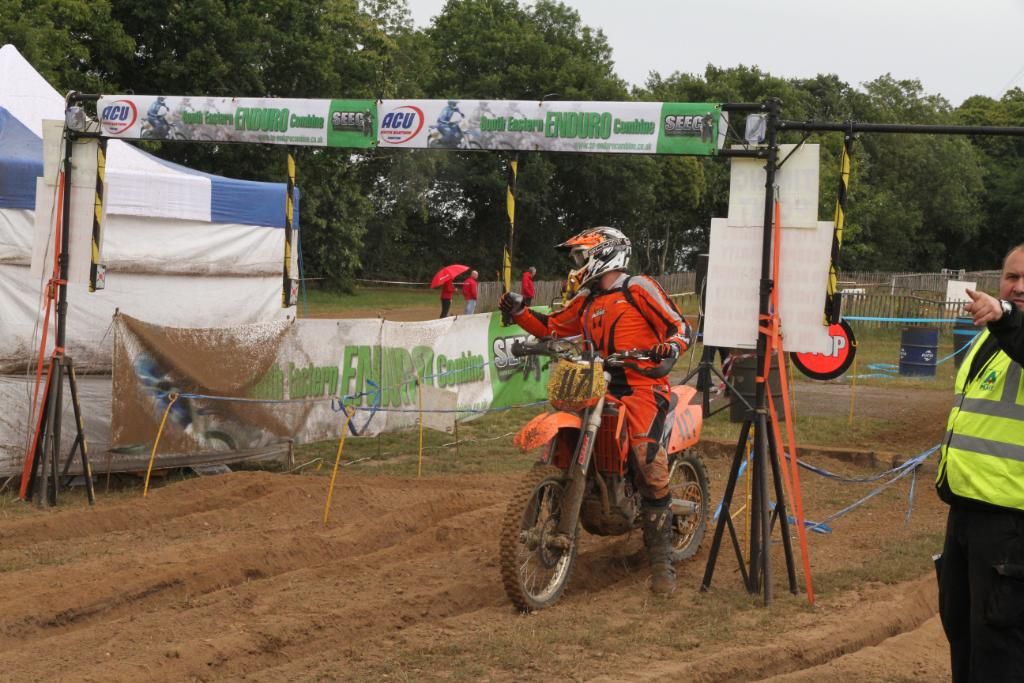 i clock in for the last lap. to one side of the rut that has formed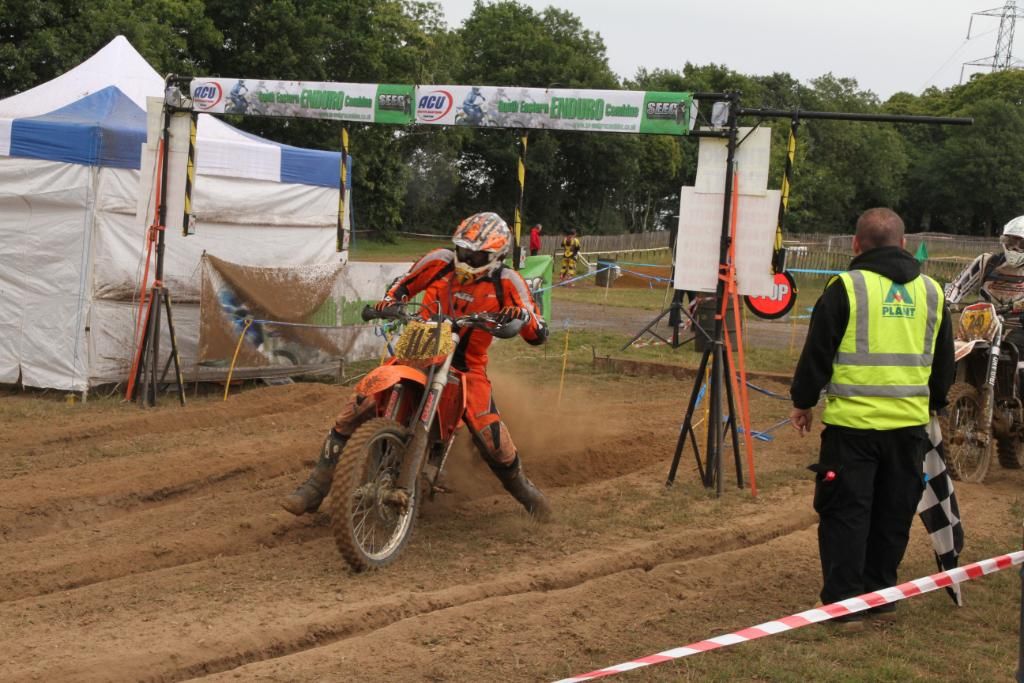 the rear wheel slips into the rut and causes a 'moment'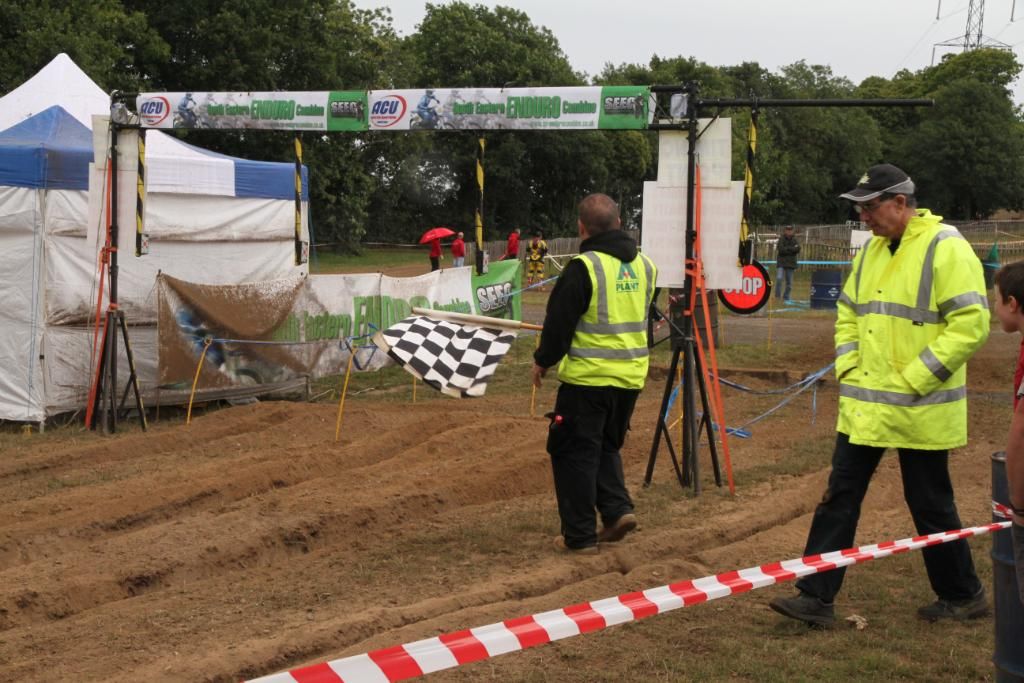 the flag drops soon after i go through for the last lap

Unfortunately the painkiller hadn't worked at all so I was still riding like a old granny and somewhere in these last two laps I made a real cockup in the trees. I slower rider pulled to side and I nipped past, only to lose control, go off track on the front wheel and nearly binned it! I was glad to get to the end at last, a good tough race (for me anyway) but it's always a good day at Canada Heights. See you at the timecard enduro later in the year.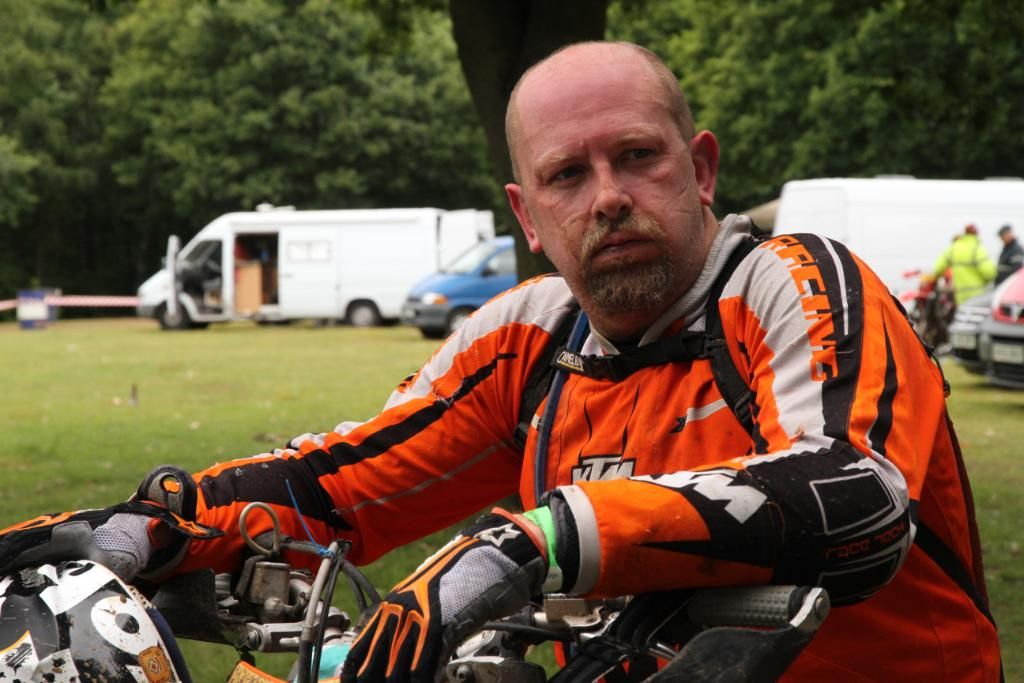 back at the car at last, tired but happy enough......it might not look like it though!
Results? Well they are still 'provisional' but I came home in 12th in the clubman class so I'm please enough with the considering the problems I had. A top ten would have been nice though. The suspension? A lot better over the rough terrain. Still a little soft but I can dial that out I'm sure and the spring would have bedded in by now so no doubt the sag will have to be reset.

If you enjoyed this report and would like to be notified of new reports or web site updates then join the mailing list. To sign up to the list just click HERE>> and send me an email.